Veranstaltungshinweise
Platt, Schwitz & Biers
Reichlich Gebläse bei der Kulturinitiative Maximal
"Platt, Schwitz & Biers" bringen Chicago mit handgemachtem Brass-Rock nach Rodgau
Blasinstrumente gelten nicht gerade als typischen Rock-Instrumente, dennoch haben es vorwiegend amerikanische Bands in den frühen 70er Jahren gewagt dem damaligen Rock mit Gebläse einen frischen Wind unter die Fügel zu geben.
Chicago, Blood, Sweat & Tears, Tower of Power, später auch Earth Wind and Fire waren die wichtigsten Bands dieser Richtung und haben mit etlichen Songs Musikgeschichte geschrieben.
Live zu erleben sind diese Stücke selten, denn der Sound ist personal- und kompetenzintensiv. Doch ganz knapp vor Weihnachten ist es mal wieder soweit, denn dann trommelt Flügelhornist Tom Schüler "Platt, Schwitz & Biers" zusammen Musiker und Publikum können dann handgemachten Brass-Rock der Extraklasse geniessen.
Das Konzert findet im Saal der Georg Büchner Schule in Rodgau Jügesheim statt und der Veranstalter ist die Maximal-Kulturinitiative, die nicht nur den Saal nutzt, sondern auch intensiv mit der Schule zusammenarbeitet. So hatten die Maximal-Techniker beispielsweise in der Projektwoche der GBS den Programmpunkt Veranstaltungstechnik angeboten. Zum PSB-Konzert kommen nun die von Willy Spahn geleiteten Schüler-Big-Bands der Georg-Büchner Schule und der Claus-von Stauffenberg-Schule als Vorgruppen in den Genuss der Maximal Soundtüftler.
Die Besucher können sich damit auf einen Konzertabend mit insgesamt drei Bands, reichlich Gebläse und einem mitreißenden Konzert freuen.
Besetzung Platt, Schwitz & Biers:
Tom Schüler (Flügelhorn und dritte Trompete)
Mathias Häfner (zweite Trompete und Flügelhorn)
Ralf Nöske (erste Trompete und Flügelhorn)
Harald Kullmann (Bass-Posaune und Euphonium)
Thomas Krause (Euphonium und Posaune)
Matthias Rüdiger (Saxofon)
Anja Beck-Hart (Gesang)
Burkhard Stoffl (Gesang)
Andreas Harth (Drums)
Stephan Langer (Bass)
Rolf Bussalb (Gitarre)
Georg Göb (Keyboard)
Platt, Schwitz & Biers am 18. Dezember 2010:
Georg-Büchner-Bühne Rodgau, Nordring 32, Eingang Ecke Lange Straße
In 63110 Rodgau-Jügesheim
Beginn: 20.30 Uhr, Einlass: 20.00 Uhr
Eintritt: 12,00 Euro – VVK: 10,00 Euro
Veranstaltungsort: Bühne der Georg Büchner Schule
(Nordring 32 / Ecke Lange Str. in 63110 Rodgau / Jügesheim )
weitere Infos
www.maximal-rodgau.de
Online Vorverkauf: www.maximal-rodgau.de
Vorverkaufskarten:
Nieder Roden: Sport Manus und Rüdigers Sax Service
Jügesheim: Bücherstube und Fachwerkhaus
Fotos von Klaus Faust
Tony Lakatos
Saxofon Weltstar Tony Lakatos auf der Maximal JazzNight Bühne
Thomas Langers JazzNight mit prominenter Besetzung

Tony Lakatos (Saxophon),Thomas Langer (Guitar), Norbert Dömling (Bass) und Giovanni Giulino (Drums) bilden die prominente Besetzung für die letzte JazzNight des Jahres 2010 im Saal der Georg Büchner Schule in Rodgau Jügesheim.

Thomas Langer hat damit für für die Besucher der Maximal-Kulturinitiative als vorab Weihnachtsgeschenk eine echte AllSTAR Besetzung zusammengestellt, die mit den Stilen Jazz, Swing, Bebop und Latin für ein Konzertereignis stehen, das auch Städte wie Offenbach, Darmstadt oder Frankfurt auszeichnen würde.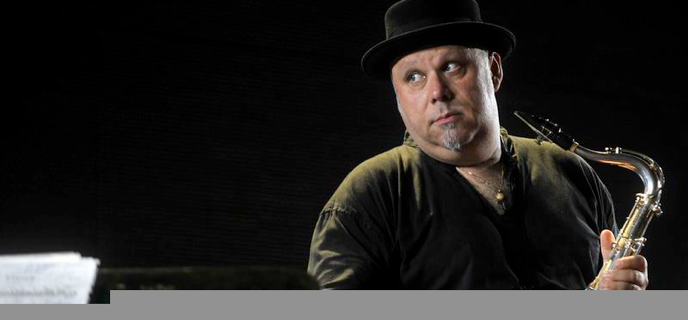 Tony Lakatos wird von der Frankfurter allgemeinen Zeitung als "perfekter Improvisator " mit dem Tenorsaxofon bezeichnet. Er ist auf über 300 CDs/LPs zu hören.
In der hr-Bigband spielt er seit 1993 Tenorsaxofon, Sopransaxofon und Flöte.
Neben seiner Tätigkeit in der Bigband ist er auch mit eigenen Gruppen aktiv, zu denen beispielsweise Randy Brecker, Joanne Brackeen oder Dick de Graaf als Co-Leader sowieGeorge Mraz und Al Foster gehörten. Weiterhin spielte er mit Kenny Wheeler, Art Farmer, Chris Hinze Kirk Lightsey, Joachim Kühn, Chris Beckers oder Jasper van't Hof. Außerdem wirkte er auch an Aufnahmen von Philippe Caillat, Kitty Winter, Michael Sagmeister, Özay Fechtoder Dusko Goykovich mit.
Der Saxophonist verfügt über einen leuchtenden Ton mit kompakten Höhen und gilt Martin Kunzler zufolge als vorzüglicher Balladen-Interpret. Er war bisher (2009) an der Einspielung von mehr als 280 LPs und CDs beteiligt, seine aktuelle CD als Bandleader heisst "Gypsy Colours".

Auch Norbert Dömling "gehört mittlerweile zum Besten, was wir in Mitteleuropa an E-Bassisten haben", so z.B, die Berliner Morgenpost. Dömling ist seit 1972 Profimusiker, damals spielte er mit "Missus Beastly", die Rockfeeling mit Jazz und Ethno verband und innerhalb kürzester Zeit zu einer Kultband wurde.

Seit 2004 spielt er im "fifty fingers" acoustic orchestra mit Ali Neander, Christoph Aupperle, Martin Wagner und Andreas Neubauer. Dämlings aktuelle CD ist unter dem Titel "Mankotangoblues" im Sommer 2010 erschienen.

Giovanni Giulino kommt aus Italien und ist als Drummer in verschiedenen Bands tätig. in der "Grupo Andare" sorgt Giulino für die karibischen Rhythmen.

Thomas Langer ist Initiator und Gastgeber der renommierten JazzNight Konzertreihe der Maximal Kulturinitiative. Er ist viel gebuchter Gitarrist für Live- und Studioaufnahmen, und findet dazwischen immer wieder die Zeit für die monatliche JazzNight eine attraktive Besetzung zu finden. Zusammen mit den eingeladenen Musikern entsteht stets ein einmaliges Konzert mit Künstlern, für die ein Tag dann ar erfolgreich, ist, wenn sie ein gutes Konzert gespielt haben mit guten Musikern vor einem guten Publikum.
Die Möglichkeit ein solches Konzert mit zu erleben bietet die Maximal Kulturinitiative am Samstag den 11.12. 2010 um 20.30 im Saal der Georg Büchner Schule in Rodgau (Jügesheim)



Eintritt 10,-€; Vorverkauf 8,-€
Veranstaltungsort: Bühne der Georg Büchner Schule
(Nordring 32 / Ecke Lange Str. 63110 Rodgau / Jügesheim )

weitere Infos
www.tonylakatos.com
http://www.doemling.com
www.thomaslanger.com
www.maximal-rodgau.de
Schlagwerker der FMR
Schlagwerker Demo im Jugendhaus Dudenhofen
Schlag auf Schlag der FMR präsentiert Übungserfolge
"In Time" zu bleiben ist die wichtigste Aufgabe eines Schlagzeugers! Genau das werden Schüler/Innen der Klassen Schlagzeug und Perkussion der Freien Musikschule Rodgau am Sonntag den 21. November zeigen. In bewährter Zusammenarbeit mit dem "Maximal" entsteht im Saal des Jugendhaus Dudenhofen ein Forum, in dem sie den Stand ihrer Entwicklung präsentieren können. Solistisch, in kleinen Gruppen oder mit der "Band aus der Dose" werden junge, aber auch erwachsene Trommler musizieren. Denn nicht alle Schüler der FMR sind jung. So gehört beispielsweise die Cajongruppe dem FMR-Projekt "Mensch-Trommel doch mit!" und damit der Altersgruppe 50-plus an.
In lockerer Atmosphäre und alkoholfreien Getränken wird jeder Fan der rhythmischen Musik etwas Interessantes für sich finden und vielleicht sogar Lust bekommen, sich selbst intensiver mit den vielfältigen Rhythmusinstrumenten zu beschäftigen.
Das Konzert findet am Sonntag den 21. November um 17:00 Uhr im Jugendhaus Dudenhofen statt.
Der Eintritt kostet 5,- /3,- €.
weitere infos:
www.maximal-rodgau.de
http://www.musikschule-rodgau.de/
Foto: Junger FMR-Schüler bei der letztjährigen Präsentation im Maximal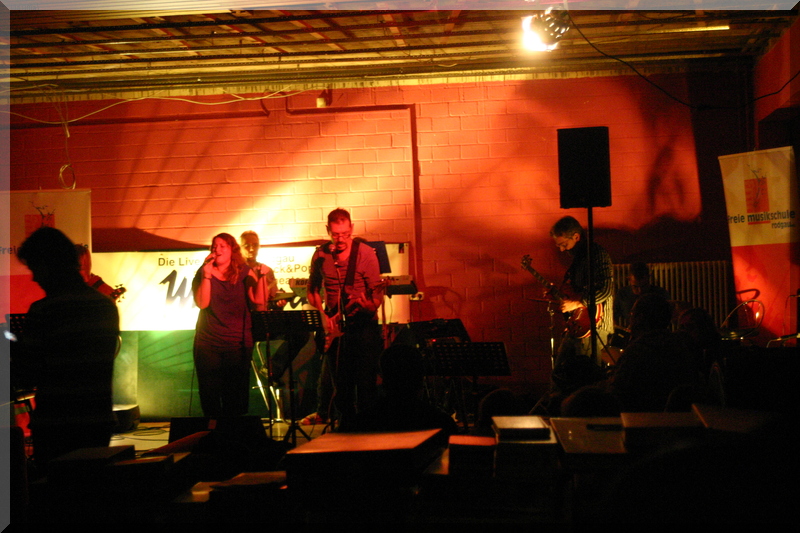 Neustart gelungen; Ehrenamtscards überreicht
Neustart gelungen
Erfolgreich startete das Team der Maximal-Kulturinitiative mit ihrem ersten Konzert in der Aula der Georg Büchner Schule. Der aus der Mitgliederversammlung initiierte Wechsel der Veranstaltungsbühne in Rodgaus "Gut Stubb" wurde auch durch das zahlreich erschienene Publikum honoriert.
Vor dem Konzert begrüßte der wiedergewählte Vereinsvorsitzende Werner Kremeier das einhunderste Mitglied und überreichte an Tülin Hegner, Klaus Herrmann und Kay Gottschalk eine Ehrenamtscard des Kreises Offenbach.
Die E-Card gewährt Vergünstigungen in Einrichtungen des Kreises Offenbach und wird vom Kreisausschuss für besonderen ehrenamtlichen Einsatz vergeben. So sind die Bedingungen für diese Auszeichnung recht hoch und es wird eine mindestens fünfjährige Vereinszugehörigkeit sowie ein wöchentlicher ehrenamtlicher Arbeitseinsatz von über fünf Stunden vorausgesetzt.
Die Vorbereitung und Durchführung jeder Maximal-Kulturveranstaltung benötigt gut 30-40 Arbeitsstunden, bei im letzten Jahr insgesamt 72 durchgeführten Veranstaltungen wird deutlich, welcher Arbeitsaufwand von den Aktiven der Kulturinitiative geleistet wird. Das Ergebnis sind attraktive Veranstaltungen mit denen sich auch die Stadt Rodgau schmücken kann. Hochklassige, teils internationale Künstler, aber auch Könner aus der Region finden sich regelmäßig im Veranstaltungskalender der Maximal-Kulturinitiative.
Die erste Jazznight des Jahres hatte mit der "Thomas Bachmann Group" ein bewundernswert aufeinander abgestimmtes Trio, dessen Spieltrieb und klangliche Neugier immer neue Wege findet und zusammen mit Thomas Langer das Publikum mit jazzigen Interpretationen von Beatles-Werken zu begeistern wusste.